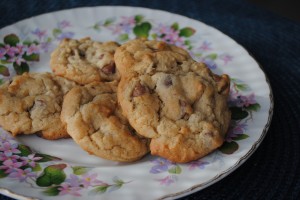 I have a pretty good chocolate chip cookie recipe that I use on a regular basis, but today I decided to try a new one. I have this great book my Mom got me, which is called Old-Fashioned Cookie Recipes, so I thought I would try out a new one, and I am glad I did.
These delicious little cookies remind me of ones I used to get at "Treats" a coffee/cookie and treats store you find in malls across Canada. This batch is not overly big, but with the number of them that you may want to eat, that's probably a good thing!
The Ultimate Chocolate Chip Cookies
3/4 cup shortening
1 1/4 cups packed brown sugar
2 TBSP milk
1 tsp vanilla
1 egg
1 3/4 cups flour
1 tsp salt
3/4 tsp baking soda
1 cup chocolate chips (I used the PC Decadent Milk Chocolate Chips)
1 cup pecans, chopped (optional)
Preheat oven to 375. In a large bowl, cream shortening,sugar, milk and vanilla. Add egg and mix. Add flour, salt and baking soda and stir well. Mix in chocolate chips and pecans (if using.) Drop by tablespoonfull onto silicone baking sheets and bake 10 minutes. Serve with milk for dunking!