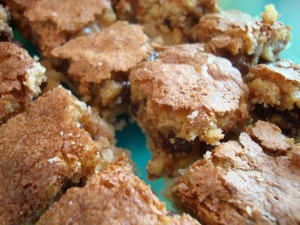 May is going to be a busy month in the Robertson household. A jewelry party, a princess party and a class barbecue for our sons entire kindergarten class are all happening right here at grand central station – uh, yeah. Busy!
One of my favorite go-to books for recipes for entertaining is Jean Pare's "Company's Coming" 150 Delicious Squares. Easy, tried and true recipes for sweets that are always yummy and always crowd-pleasing.
In the upcoming weeks, I sure have my work cut out! But, as with all things in life, it's one day at a time, so for the next few weeks, I am going to endeavour to make one or two batches of squares/cookies a day to fill up my freezer in preparation for all of the festivities. Friends always appreciate homemade baking, and I am happy to oblige. After all, the baker gets to do the quality control, right?
A traditional favorite of mine, and many others as well, this recipe seems like a sensible place to start.
Butter Tart Bars
1/2 cup margarine
1/3 cup packed brown sugar
1 1/4 cups all purpose flour
2 eggs
1 cup packed brown sugar
1/4 cup flour
3/4 tsp baking powder
1/4 tsp salt
1 cup raisins
1/2 cup chopped walnuts (optional)
Combine first 3 ingredients, and press into the bottom of a 9×9 pan. Bake at 350 degrees for 10 minutes. Then beat eggs and sugar together until light and thickened. Add the rest of the ingredients, and stir. Pour onto the pre-baked layer and bake at 350 degrees for 30 minutes until centre looks almost firm. Cool and cut into 36 bars. (I found they were done after 25 minutes, max!)