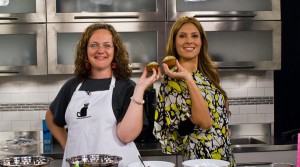 A brand new year is upon us! With it comes hope, seemingly infinite possibilities and fresh beginnings! Since I started a Facebook group for Cat Can Cook, I have been rather lax about regular posts here on the main site, favouring instead, the simplicity of quick Facebook updates and interactive forums. I didn't really realize how infrequently I was posting here until at a family function over Christmas, my cousin asked me if I was "phasing out Cat Can Cook." That has never been my my intention, and her comment made me realize how few posts I did over the past year. I really love doing this site, and of course I love too cook. I want to make sure that I can keep doing what I enjoy and helping others' learn not to be intimidated in the kitchen!
So, in an effort to maintain more regular blogging here, I resolve to try (at the very least) to post a new recipe for your enjoyment a minimum of once per week. It's good for me, because it keeps me active here on the main site, and it's good for you to have something new to try. I think it's win-win all around!
So, that being said, what better way to kick off a brand new year than to go on National Television and whip up some yummy appetizers?
Won't you join me on Monday, January 9th on Breakfast Television Toronto? It's a fun live show that I have had the pleasure of appearing on twice before. The crew and hosts are so much fun – I really am looking forward to Monday!
Tune in on Monday morning! I'll be whipping up some yummy recipes right before your eyes! What are they? Well, I hope you can watch me then and find out!