I love Kraft's What's Cooking Magazine, so when the latest edition came, and in it was a recipe for the ULTIMATE Cheesecake, I had to try it. IT just so happened to co-incide with my birthday, so I treated myself and made it! It was SO AMAZINGLY GOOD!!! Try it, you'll agree!
Chocolate Turtle Cheesecake
1-1/4 cups finely chopped toasted pecans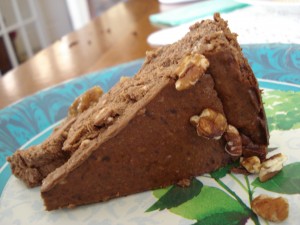 2 Tbsp. non-hydrogenated margarine, melted
3/4 cup plus 2 Tbsp. sugar, divided
32 KRAFT Caramels, chopped
3 pkg. (250 g each) PHILADELPHIA Brick Cream Cheese, softened
1 pkg. (8 squares) BAKER'S Semi-Sweet Chocolate, melted, cooled slightly
1/2 cup pecan halves, toasted
HEAT oven to 350 °F. Cover bottom of 9-inch springform pan with parchment paper. Combine chopped pecans, margarine and 2 Tbsp. sugar; press onto bottom of pan. Microwave caramels and milk in microwaveable bowl on MEDIUM 4 to 5 min. or until caramels are completely melted and mixture is well blended, stirring every 2 min. Spread over crust to within 1 inch of edge; cool.
BEAT cream cheese and remaining sugar with mixer until blended. Add eggs, 1 at a time, mixing on low speed after each just until blended. Stir in chocolate; pour over caramel layer.
BAKE 45 to 50 min. or until centre is almost set. Run knife or metal spatula around rim of pan to loosen cake; cool before removing rim. Refrigerate 4 hours. Sprinkle with pecans halves just before serving.