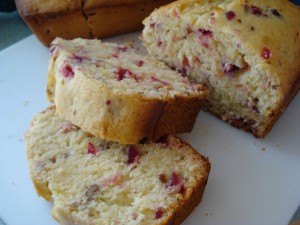 Another "added-to" recipe. Actually, the reason I ended up changing it, was that during mixing, I realized that the dough was not nearly wet enough, and so I ended up adding another 3/4 cup of orange juice to it, ignoring what the recipe said. It is a heavier bread, very dense and moist though. The pecans were also my idea, and give it a wonderful flavour. Walnuts or toasted almond pieces would also work well.
Cranberry-Orange-Pecan Bread
4 cups flour
2 cups sugar
1 TBSP baking powder
2 tsp salt
1/2 cup shortening
2 eggs
2 1/3 cups orange juice
2 TBSP grated orange peel
2 cups fresh or frozen cranberries, chopped
1 cup pecans, chopped
In large bowl, mix flour, sugar, baking powder and salt. Cut in shortening with a pastry blender until mixture resembles coarse crumbs.
In a separate bowl, whisk together eggs, orange juice and grated orange peel. Mix all into flour mixture, and mix well. Stir in cranberries and nuts. Spoon into greased loaf pans. bake in a 350 degrees preheated oven for 1 hour, or until middle is set and toothpick inserted in centre comes out clean.
Makes 2 loaves