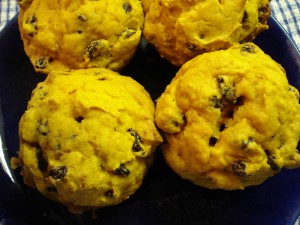 Well, it's "Manic Muffin Monday" again, and so here is the perfect muffin recipe for fall! If you're already a fan of my Awesome Banana Muffin Recipe, you may notice that this is actually the same recipe which has been altered to use canned pumpkin instead of Bananas! Add is some spices and raisins, and it's perfect with pumpkin! I made them just last evening, and already they are almost all gone. My son who is the *fussiest* eater ever, decided they were good enough to eat two!
The best thing about this recipe, is that it is extremely easy and versatile! You can use pretty much any pureed and cooked fruit (apples, pears, bananas, pumpkins, plums..etc.) to create your own perfect version. Play around with the spices, add in little extras such as nuts, raisins, seeds..etc.to customize them to your liking. I PROMISE you will not be disappointed!
Easy Pumpkin Muffins
1 14 oz. can pumpkin
3/4 cup white sugar
1 egg
1/3 cup melted margarine or butter
1 teaspoon baking soda
1 teaspoon baking powder
1/2 teaspoon salt
1/2 teaspoon cinnamon
1/2 teaspoon nutmeg
1 1/2 cups flour
1 cup raisins
Mix the pumpkin, sugar, egg and margarine together. Set aside. In a separate bowl, mix together baking soda, baking powder, salt and flour. Mix wet and dry ingredients all together, and stir well! Pour into greased muffin tins, and bake in 350 degrees oven for approximately 20 minutes. Makes about 12 large muffins. Enjoy!
*These are much more flavourful the next day, and they freeze very nicely too!