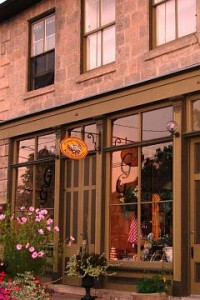 We took a day-trip to Elora on Saturday to meet up with my parents for lunch. While we were there I found a cute little cooking shop on the main street, so of course I had to go in and see what sorts of wonderful things they had. Well, was I ever glad that we went in. The shop is cozy, quaint and very inviting with every kitchen gadget you can imagine. I felt very much at home there.
I got into a conversation with the owner, and told her about my new book, and after chatting about it she said she'd love to help promote it by selling it in the store! I was thrilled.
So, if you're in Elora anytime soon drop into this lovely shop. There are tons of Christmas present ideas (I did some shopping of my own while there!) and a great selection of cooking supplies and tools.