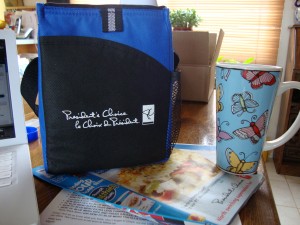 PC has done it again, launching a brand new line of impressive PC products, with the health conscious as well as the economical Canadian in mind.
I received my box of goodies to sample today, and am quite pleased. Cleverly packed into a lunch bag, PC is focussing on the concept of the "bag-lunch" in financially challenging times where so many are focused on saving money by bringing their lunch to work instead of buying. The products came bundled in an insulated lunch-tote complete with portable water filter bottle. Lunch, drinks, dessert and fun little snacks like the 100 Calorie Mini-Bag Popcorn – they have it all covered for the full work day!
My husband was particularity impressed with two of the products: The Vegetarian Chili and the High Protein Bar. "These have excellent amounts of protein in them. A lot of energy bars only have a quarter to half the amount of protien in them of these products, and you really want a decent amount of protien if you are doing an exercixe program or sports." …and the taste? Yum! I don't think I would ever be able to eat a whole one in one sitting, as it would be just too filling, but it had a pleasant peanut-buttery taste and nice texture with just enough chocolate.
I was very happy with the personal water filter bottle. For a busy mom on the go, this is perfect! I can take my water with me, and save some money by not buying it while I'm out, but I know I'm getting good clean water. The apple cherry blend snack was, in my opinion, also very tasty, and I'm sure we'll be buying more of those, as my daughter also loved it. My fussy 5-year-old son announced that he "liked taste testing" the Omega-3 Granola Bar. I liked the blueberry flavour it had, but admittedly, it didn't have a texture that I liked and I don't think I would buy them again, as I do have another preferred type. I love the simplicity and ease of transporting these products. They make packing for a day out with children fuss-free!
The Vegetarian Chili, we have yet to try, but as soon as we do, I'll blog about it! Chili is a favorite around here, so I'll let you know what we think.
So, as usual, PC has impressed me! Great products which please kids, parents, and those who need lunch-to-go.