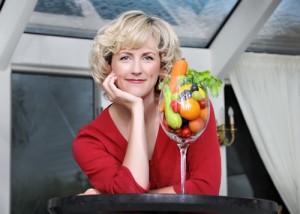 Sometimes in the world of food, interesting and amazing things happen, and today was one of those days.   This morning, I was contacted by Natalie MacLean, world-renown wine and food writer telling me how much she enjoys my site, and recipes. She wrote to tell me about her new mobile application called "Nat Decants." Now, I love wine, especially red but it's something that despite loving all things food, I know virtually nothing about. I checked out Natalie's mobile app and I must say, I am quite taken with it. I've spent the better portion of the evening perusing her seemingly endless wine-reviews, and already I feel a tad more enlightened on the subject!
Natalie takes the guess work out of selecting wines, by providing honest, no-nonsense advice on which ones to choose, and in an easy-to-interpret style, she notes their attributes and flavours so thoroughly. For someone like myself this is absolutely brilliant! What I love the most about Nat Decants is the "pairings" icon, which allows you to enter foods and tells you what wines they go nicely with. I find that amazing! You just never know if you can trust the opinion of the young-uns working at the local wine shoppe, but Nat knows her stuff and it's right at your fingertips, quite literally!
Reviews are scored out of 100, and she notes the region, price, score, percentage of alcohol, sweetness and winery, as well as notes on the wines' taste. The notes are written in such a way that they are not intimidating to a novice wine drinker, yet they are descriptive enough that you know exactly what she means without even tasting the wine yourself (yet!) Once you finish reading even just a few reviews, you'll be hooked!
Next time I cook a fabulous meal, I'll be using this fun application to advise me on my wine selection. It's like having your own personal sommelier – how divine!