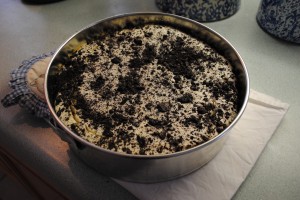 Oh My goodness! It has ben ages since I last posed on this poor, neglected blog of mine! Busy with Christmas preparations, my other business Elanne & Ivy with Christmas orders and last minute shows, and generally just keeping things running here at home have sure had me hopping. I wanted to stop for a moment though, and share this delicious recipe from Kraft! If you are a cheesecake lover as I am, tis one is a must-make for you my friend!
I made this beautiful dessert on the weekend for a dinner party I hosted. The centre was not *quite* set, but it still tasted divine! My guests seemed to agree, it was a definite hit!
Try it out! I know it will be a crowd-pleaser for your holiday table, though it might be so good, that you don't want to share it at all!
Kraft Oreo Cheesecake
1 pkg (16.6 oz.) Oreo Cookies, divided
1/4 cup (1/2 stick) butter, melted
4 pkg (8 oz. each) cream cheese, softened
Preheat oven to 325 °F if using a silver 9-inch springform pan (or to 300 °F if using a dark nonstick 9-inch springform pan). Place 30 of the cookies in resealable plastic bag. Flatten bag to remove excess air, then seal bag. Finely crush cookies by rolling a rolling pin across the bag. Place in bowl. Add butter; mix well. Press firmly onto bottom of pan.
Beat cream cheese, sugar and vanilla in large bowl with electric mixer on medium speed until well blended. Add sour cream; mix well. Add eggs, 1 at a time, beating just until blended after each addition. Chop or crush remaining cookies. Gently stir 1-1/2 cups of the chopped cookies into cream cheese batter. Pour over crust; sprinkle with the remaining chopped cookies.
Bake for 1 hour and 10 min. or until center is almost set. Cool. Refrigerate 3 hours or overnight. Cut into 16 pieces. Store leftover cheesecake in refrigerator.