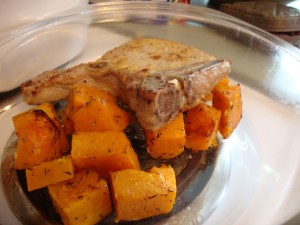 Our local celebrity chef Emily Richards, is sometimes the inspiration behind dishes I make in my own kitchen. This is one of her many delicious recipes, that I've modified just a little. The original calls for apples, but since I don't have any at the moment, I just left them out. I'm sure it won't be quite as good without them, but I think we'll manage somehow 😉
I wanted to make something simple but delicious for an intimate family dinner tonight, seeing it's New Years Eve. We're not entertaining, but we still want something nice. This dish will fit the bill well, I think.
Pan Seared Pork Chops with Butternut Squash
2 pork chops (bone in for added flavour)
1 1/2 TBSP dijon mustard
2 cloves garlic, minced
salt and pepper to taste
1 butternut squash, seeded and diced
1-2 TBSP canola oil
2 tsp fresh thyme leaves
salt and pepper to taste
Prepare the chops, by spreading them with the mixture of mustard, garlic and salt and pepper, and set aside. Toss the squash in the oil, thyme, salt and pepper, spread in a single layer on a baking sheet, and cook in a 425 degrees F oven for 20 minutes, or until fork tender.
Meanwhile, fry the chops in a little oil, in order to brown on each side. Remove squash from oven, and set the pork chops on top, returning to the oven for another 10-15 minutes, or until pork is fully cooked.
Perfect with a side rice dish, baked potato, or fresh garden greens.