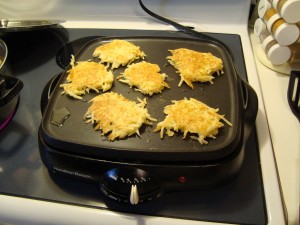 We had a delightful dinner with friends this evening. Under her watchful eye and expert guidance, my friend Jenn and I prepared Matzo Ball Soup and Potato Latkes. Both were absolutely delicious, and I'm looking forward to making them in my own kitchen soon!
Potato Latkes
6 potatoes, quartered
1 small onion, grated
3 eggs
1 tsp salt
1/4 tsp pepper
1/4 cup flour
1 TBSP oil
2 tsp baking powder
oil for frying
Grate potatoes, and drain well (or pat to dry) Blend with remaining ingredients. Drop spoonfuls onto hot oil, and fry until brown on both sides, turning only once. Serve with applesauce and sour cream.