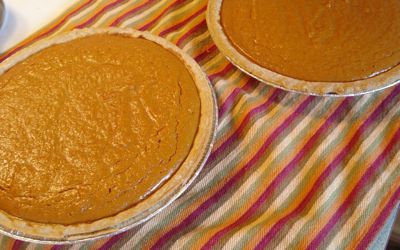 My Gram made the best Pumpkin Pie anyone's ever had! Thanksgiving dinner was never complete without a wonderful piece of her pie topped off with whipped cream. Her Butter Tarts were also one of her most well-known homemade treats…basically, anything with pastry, she was a master at baking!
Sadly, this will be our first Thanksgiving without her, so I am going to begin the tradition of making her pie for our family, just as I have made my other Grandmother's Christmas Pudding every year in her memory.
I know I won't be able to make Grams pie as well as she did (no one can) but I'm going to give it my best shot. Here is Gram's Pumpkin Pie recipe. It is so creamy and perfectly spiced. I hope you enjoy it!
Gram's Pumpkin Pie
Preheat oven to 350. Beat 4 eggs. Add 2 scant Cups of white sugar and mix well. Add 2 cups milk. Add 1 large 28oz can of pureed pumpkin. Add 1/2 tsp ginger, 1 tsp cinnamon and 1 tsp nutmeg. Add 2 TBSP margarine and a pinch of salt. Blend well! This will be enough filling for two pies.
Gram's Pastry
2 C. flour
3/4 C. shortening
a shake of salt
enough cold water (in other words, a little bit I suppose?)
Use a pastry blender to mix. Rolls out easier if chilled.
Try not to handle the dough much.
Pour into unbaked pie shells and bake about 1 hour. Around edges cracks will appear when the pie is done. This will make 2 single pie crusts.