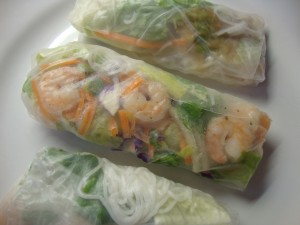 My first ever experience (experiment?) with making my own rice paper wraps was tonight's dinner, and WOW was I impressed with the ease of these delicious wraps. I had tried these many times before at a local Thai place, and I guessed what might be in them and replicated it at home. I think mine were actually better *heehee!*
Here's how I made them (sorry for my vague measurements, but if you read my blog a lot I guess you're used to it by now!) 🙂 In this case, just add in as much as you like of the fillings.
Rice Paper Wraps
1 Package rice paper wraps
Vermicelli noodles, cooked and drained
Shrimp, cooked
Ground chicken, cooked
1 cup cilantro, washed and chopped
Bean sprouts
1 Bag mixed salad greens
Pad Thai Sauce
Satay Sauce
Sesame Sauce (or any combination of the above mentioned sauces)
Soak rice paper wraps one at a time in warm water for about 15 seconds. Place on a clean dry surface and top with desired amounts of veggie/meat/noodle mixtures then turn in ends and roll together. You may wish to top them with sauce before wrapping up. For my chicken wraps, what I did, was cook the meat, and then mix in pad Thai sauce, and then use the mixture in the wraps. To keep them from drying out as you make more wraps, you'll want to place a damp clean tea towel over your plate of wraps. They were simply delicious! A must try – and honestly so easy, and impressive at the same time!