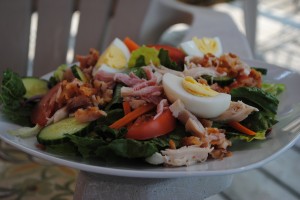 Did you know that you can find Cat Can Cook on Facebook? 3000 fans strong and growing by the day! Thanks to everyone for the support and fun exchanges. I love cooking and sharing my recipes with the world and Facebook has allowed Cat Can Cook to grow and change and expand even more.
To celebrate our growth and success I wanted to have a contest. The prize will be a signed copy of "The Cat Can Cook Book" plus a beautiful piece of jewellery from my very own "Elanne & Ivy" jewellery collection (did you know I am a jewellery-designer too?)  Nice prize, huh? So, here are the details on how you can enter to win.
If you haven't already, join my Facebook group. Now comes the fun part! This time I am putting YOU to work! I want you to make one of my recipes (any Cat Can Cook recipe) from either on-line or my book. This is not a cooking contest or throw down on who does the best job or takes the best photo, it's just a challenge to you, to cook something – anything from Cat Can Cook. Then, take a snapshot of the finished dish (one entry per person, please!) and post it on the wall of Cat Can Cook on Facebook!  That's it! 🙂 Easy peasy! All entries will be entered into random.org and one lucky winner will be chosen on Friday, August 5th.
Think of it as your homework assignment, and you have nearly one week to complete it. My recipes are ALL simple and I know for a fact that you can do this! Goodluck everyone – I hope to see lots of entries!