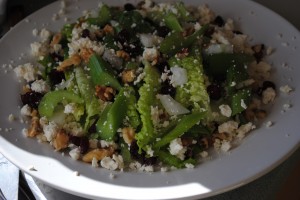 …with Raspberry Vinigarette!
YUM!!!
Walnut, Cranberry & Feta Salad
(2 servings)

1/2 head comaine lettuce, torn
3 stalks celery, chopped
1/4 cup vidalia onion, chopped fine
1/2 cup dried cranberries (like Craisins)
1/2 cup walnut pieces
1/2 cup crumbled feta cheese
store-bought raspberry vinaigrette
Wash and tear lettuce, and assemble on a plate. Top with celery pieces, onion, cranberries, walnuts and feta. Add raspberry vinaigrette (or other sweet dressing of choice) Enjoy!