These are by far the EASIEST and BEST Banana Muffins I have ever tasted! Even if you think you can't cook, they are 100% "fool-proof" which makes them all that much better! With only 8 ingredients (which you probably have on-hand) I am sure you'll agree these are super easy. See for yourself in the feedback! There are over 1000 positive comments – if that's not good feedback, I don't know what is!
They are extremely easy, and great tasting! So versatile…change them up and let me know how they turned out! You just can't go wrong with this GREAT RECIPE! If you like them, leave me a comment and tell me about your muffin victory! 🙂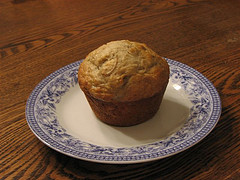 Banana Muffins (makes 12 muffins)

3 or 4 Large bananas, mashed (the more bananas the moister, so I use 4)
1/2 cup white sugar (original recipe calls for 1 cup, but I don't like them too sweet)
1 slightly beaten egg
1/3 cup melted margarine or butter
1 teaspoon baking soda
1 teaspoon baking powder
1/2 teaspoon salt
1 1/2 cups flour
Mix the mashed banana, sugar, egg and margarine together. Set aside. In a separate bowl, mix together baking soda, baking powder, salt and flour. Mix wet and dry ingredients all together! Pour into greased muffin tins, and bake in 350 degrees F oven for approximately 20 minutes. Enjoy!
*These are much more flavourful the next day, and they freeze very nicely too!
*Also, if you like walnuts, you can throw a handful of those in there as well for some added flavour and texture, or try adding chocolate chips, or better yet, BOTH! Yum 😀
My first cookbook is now out of print, however I just released my BRAND NEW BOOK, "Cat Can Cook Vegetarian" It features most of the original recipes in book #1, but this book is bigger and better and in full colour! It is a vegetarian cookbook that focuses on delicious, easy recipes!
You can order Cat Can Cook Vegetarian online!