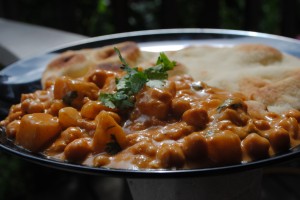 Since going back to the veggie life-style, I have been searching for more ways to eat the foods I love with a veggie twist on some of my formerly favourite recipes. Today I made one of my all-time favourite dishes without the traditional ingredient used, chicken. Honestly, it was SO good! Try it and find out why we all loved it so much!
Butter Chickpeas with Potatoes
1 medium onion, chopped fine
2 TBSP oil
1 tsp fresh ginger, grated
1 tsp minced garlic
1 tsp fresh ginger, grated
2 tsp curry powder
2 tsp garam masala
1 tsp ground cumin
1 tin condensed tomato soup
1 cup cream
1 can, 240 ml chickpeas, drained
2 medium potatoes, cubed and boiled
2 TBSP chopped cilantro
1/2 tsp salt or to taste
Cook the onion in the oil until transparent, then add in the ginger and garlic. Add dried spices and sauté for about a minute. Add in the tomato soup, cream, chickpeas and cooked potatoes, and heat through. Just prior to serving, add in cilantro and salt to taste. Serve with warm Naan and Basmati rice.