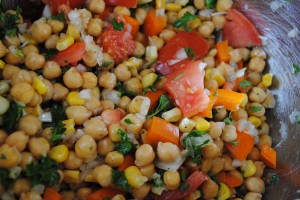 Even though it's not summer outside, you can still make this delicious and flavourful summery salad! It's healthy, high in fibre and and light tasting, so make it and let your taste buds delight!
Fresh Summer Chickpeas Salad
19-oz  can chickpeas, drained and rinsed
¼ cup sweet onion, chopped
2 garlic cloves, minced
1 large tomato, diced
1/4 cup fresh parsley, chopped
3 tbsp olive oil
½ cup corn niblets
1 orange bell pepper, diced
1 tsp red wine vinegar
1 tsp fresh lemon juice
Freshly ground black pepper
In large bowl, stir together all ingredients. Chill at least 1 hour before serving. Enjoy!