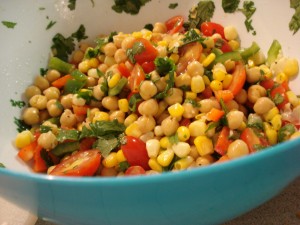 So, this isn't exactly succotash – it's BETTER! I actually got the idea for this recipe from a picture in one of my many cook books. I have no idea what the marinade or flavour of the salad in the picture was, but to me it resembled a succotash, so that's just what I'm calling this. I didn't put lima beans in mine, because well, I'm not a big lima bean fan, but what I did put in mine was chick peas, and it's a very tasty, light and fresh!
1 19oz can chickpeas, drained and rinsed
3/4 cup frozen corn niblets
1 lemon, juiced
1/2 tsp salt
1 clove garlic, minced
1/2 red pepper, chopped
1/2 green pepper, chopped
3 TBSP fresh cilantro leaves, chopped
fresh ground black pepper
Combine all ingredients in a medium sized bowl, and refrigerate for several hours to allow flavours to mesh. Serve as a side dish with chicken or other meat dishes.