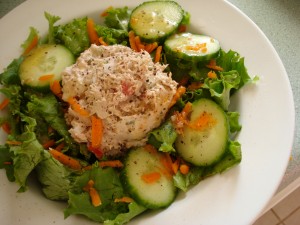 Day three of my detox, and I've already lost 3 pounds – man, this diet works! I will be the first to admit however (followed closely by my poor family) that giving up caffeine and sugar has not been easy. I'm just a tad grumpy, and lethargic, but I'm trying to get outdoors and walk as much as I can to get the natural endorphins going . I'm struggling a little bit also with having to stick to the menus provided, and am not able to do my own thing when it comes to cooking. But, I'm half-way through the worst week, and from here it will get much easier. Plus, only 21 pounds to go – I can do this. I *will* do this!
Today's lunch is a delicious Tuna Salad. It was surprisingly filling and very yummy. Of course all of the recipes for this plan are easy, and this one was a snap to whip up in minutes. It was very similar to my own tuna salad recipe, so I sort of just improvised between the two, and made it like this:
Simple Tuna Salad Recipe (serves 2)
1 small can tuna in water, drained and flaked
1 small onion, minced
1 rib celery, chopped fine
1 TBSP light mayonnaise
1/2 red pepper, chopped fine
1/2 cucumber, sliced
4 baby carrots, shredded
1 small apple, peeled and chopped
4-5 cups salad greens, divided
Combine tuna, onion, celery, mayonnaise, red pepper and mayo and stir well to combine. Arrange greens on two plates, top with carrot, apple and cucumber slices. Using a rounded scoop or spoon, divide tuna mixture and scoop half on top of each salad. Top with fresh ground pepper and your favorite salad dressing.