Mexican food is not something that I cook all that often, and I'm really not sure why. It's fresh, mostly healthy, slightly spicy (often using one of my favorite herbs, cilantro) and it's always delicious. I think it must be that I just never think of making it – until today that is! Going over my huge collection of cookbooks, I came across one I forgot that I had. It features simple Mexican Recipes, and so I drew inspiration from it for these delicious Chicken Enchiladas. They were absolutely fabulous! My husband raved about them so much, I think he may have a new Cat Can Cook favorite! Ole'!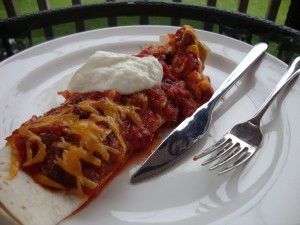 Chicken Enchiladas
2 cups of chicken, cooked and diced
1 onion, chopped fine
1 cup cheddar cheese, grated
1 tsp cumin
3 cloves garlic, minced
2 TBSP lime juice
1 jalapeno pepper, chopped fine (optional)
2 TBSP fresh cilantro, chopped fine
8 large tortillas
1 1/2 cups salsa (store bought is fine)
1 cup cheddar cheese, grated (for topping)
1/2 cup light sour cream
In a large bowl, mix cooked and diced chicken, onion, cheese, cumin, garlic, lime juice, jalapeno pepper and cilantro. Place a scoop of the mixture in the centre of each tortilla, roll up and place side by side in a baking dish (cake pan) Top with salsa and grated cheese. Bake in a preheated 350 degrees F oven for about 20 minutes. Serve with sour cream on top.