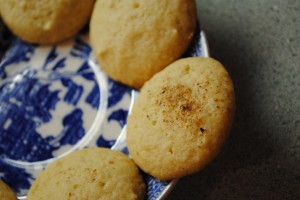 I am so sorry for the lapse in time on posting this recipe! Sick kiddos + sick Catherine + broken computer (Whaaaa!!!) + busy life = my poor neglected blog! Anyhow, you've been asking for this recipe and waiting so patiently! Here it is without further delay. I cannot imagine a more Christmassy Cookie 🙂 I received this recipe tucked into a Christmas Card – what a lovely surprise!
Mrs. Fields Egg Nog Cookies
2 1/4 cups all purpose flour
1 tsp baking powder
1/2 tsp cinnamon
1/2 tsp nutmeg
1 1/4 white sugar
3/4 cup salted butter, softened
1/2 cup eggnog
1 tsp vanilla extract
2 egg yolks
1 TBSP nutmeg
Preheat oven to 300 degrees F. In a medium bowl, combine flour, baking powder, cinnamon and nutmeg. Mix well, and set aside. In a large bowl, cream butter and sugar with an electric mixer. Add eggnog, vanilla and egg yolks and beat at medium speed until smooth. Add the flour mixture, and stir by hand to combine, but do not over mix!
Drop by rounded teaspoonfuls onto ungreased cookie sheets, about 1 inch apart. Sprinkle lightly with nutmeg and bake 20 – 22 minutes until edges are lightly browning.
Perfect for serving to Santa on Christmas Eve 😉