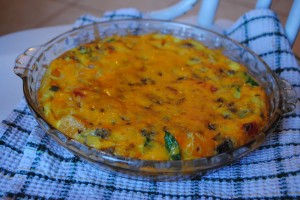 What could possibly be cooler than this amazing looking and tasting meal, with next to no work? Nothing – I know!
Frittatas look all fancy-pants but they really are about the easiest thing since sliced bread! No culinary skills required at all for this one folks. Just follow a few basic steps, whip this beauty out of the oven and look like the total kitchen goddess you know you are 🙂
Frittata Prima Vera
1 TBSP olive oil
1 clove garlic, minced
1/2 green pepper, chopped
1/2 red pepper, chopped
1/2 sweet onion, chopped
small handful of button mushrooms, chopped
salt & pepper
1/2 TBSP margarine
8 eggs, scrambled
1/2 cup shredded cheese
Preheat oven to 350 degrees F. In a medium saucepan, saute all veggies in the oil. Set aside. Grease a pie plate with margarine, and pour in beaten eggs. Next, pour in sauteed veggies, which will sink into the eggs. Sprinkle with salt and pepper. Put in preheated oven for about 15 minutes. Remove from oven, and top with cheese. Place back into the oven for another 10 minutes or so. Remove from oven and allow to set for about 5 minutes. Serve with a salad and bread.