Lately, I've been thinking a lot about natural products, and making more informed choices about the health and beauty products my family uses. I really never realised all of the toxins used in conventional drug-store products, so I've decided not to buy many of them anymore and opt for home-made and locally-made safer versions.
Slowly, I am starting to make some of my own beauty products. While food is normally the focus of my writing, these "recipes" are still share-worthy!
Here is a super-simple and super-cheap one for bath salts. My daughter and I whipped this together in minutes and will add pretty labels for gift-giving this Christmas! I might even pamper myself, and have a nice bath with them tonight.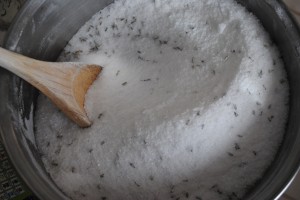 Lavender Bath Salts
2 cups Epsom Salts
2 cups Coarse Sea Salts
1 1/2 cups Baking Soda
10 – 15 drops lavender essential oil
lavender buds
Combine all of the ingredients in a large mixing bowl. Stir well, and combine. Pour into pretty glass jars, using a funnel. Decorate the jars with pretty labels for gift-giving.