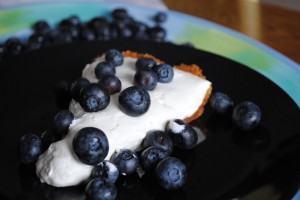 Cheesecake has to be my all time favourite treat! This low-fat recipe is so easy to whip up in minutes, plus it's guilt-free, so you can go ahead and indulge!
No-Bake Low-Fat Blueberry Cheesecake
1 package (8 oz) low-fat cream cheese, softened
2 cups fat-free whipped topping (Cool Whip)
2 TBSP white sugar (or slightly more to taste)
1 graham cracker crust pie shell
In a large mixing bowl, mix together cream cheese, whipped topping, and sugar. Spoon into graham crust and chill for 1 hour. Top with fresh blueberries or fruit of your choice.