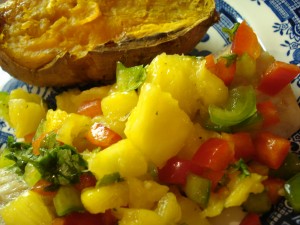 In case you've not tried it, or don't know what it is, Mahi Mahi (also known as Dolphin Fish – it's not really dolphin, no worries) is a firm, and delicately flavoured fish. It cooks beautifully because it holds it's shape well.
It can be paired with a variety of spices, or done in the oven in a butter sauce if you're feeling decadent, but I like mine done with a fresh salsa – tomato or in this case, fruit. Today, I chose a pineapple salsa as the accompaniment. Paired with a baked sweet potato, it's a delicious and healthy dinner.
Mahi Mahi with Pineapple Salsa
2 fillets of Mahi Mahi fish, fresh or frozen and thawed
1 TBSP olive oil
fresh ground pepper
1 cup fresh pineapple, diced
1/2 red pepper, diced
1/2 green pepper, diced
1/4 cup vidalia onion, diced
1 clove garlic, minced
2 TBSP cilantro, chopped
Brush fish with oil, sprinkle with fresh pepper, and broil for 3-5 minutes. Flip over, and brush with oil and sprinkle with pepper again. Broil another 3-5 minutes, until fish flakes with a fork.
Combine the remaining ingredients to make the salsa, and top each fillet with salsa. Serve with baked sweet potatoes, and a tossed mixed greens salad.