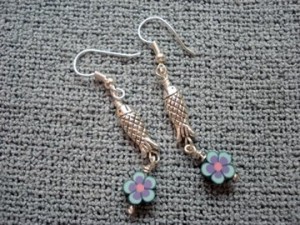 I have been crafting up a storm (so to speak) and in the past couple of weeks, I have made about 50 new pair of earrings! My brother and I are collaborating on a show in November, and I must have alot of stock ready for that event…so…I will try my hardest to get some photos taken and the pictures posted in my store. It is rather lacking these days in *stock* A lot of it has sold (including a necklace today – Thank-you for your order Bree, your e-mail bounced back and so I cannot reach you via e-mail) but your necklace will be on its way to you tomorrow! 🙂
I LOVE jewellery making, crafting, scrapbooking, art in so many forms. It is wonderful be finally be at a stage in my life again as my children grow and become more independent, that I am able to do these loved hobbies once more…it just brings me so much joy to be creative.
So, stay tuned in the upcoming days (I hope not weeks) as I post more "beaded delights" for sale…hey, now *there* is the title I should use for my book! Another project I would like to complete in the near future. I want to share this passion with the world! Ain't art grand?