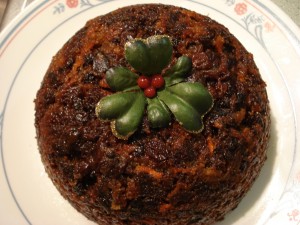 I have posted this recipe here before, but for those of you who may not have seen it, I wanted to share it again. This was my Great-Grandmother's Recipe, and it's enjoyed every year in our home for Christmas dinner dessert. It'a delicious carrot pudding full of wonderful raisins, currants, dates…all the good stuff (and no fruit peel) Blah! I am just not into fruit peel – I'm not really sure who is?
Anyhow, this year as we made the pudding, I took a few pictures along the way to show the method for those who may find it confusing if making it for the first time. It really is very simple, and definitely worth the time and effort (but if you have a food processor, use it to grate the carrot and potato – it saves a lot of time) I made four puddings today, and the prep took me less than half an hour 🙂
Traditional Christmas Carrot Pudding Recipe
1 cup Brown Sugar
1 cup Raisins
1 cup Dates
1 cup Currants
1 cup Margarine (scant — just under 1 cup)
1 cup Shredded Carrot
1 cup Grated Potato
1 1/4 cups Flour
1 tsp Baking Soda
1 pinch Salt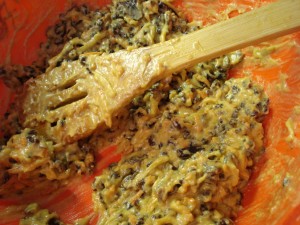 (Don't forget to make a wish on the Christmas Pudding as you stir!)
To steam the pudding, you can use a large pot with a small amount of water in the bottom. We use an inverted pyrex bowl in the bottom of the pot to keep the bowl with the pudding above the level of the water. Cover the pot, and cook on medium heat (keep water to a low boil) Make sure you continue to carefully add small amounts of water to the pot so that it doesn't boil dry over the 3 hours steaming time.
(Cover bowl with foil, place in about 2 inches of water, and steam with lid on pot for about 3 hours)
Serve with a Brown Sugar Sauce or Custard.
Merry Christmas!
Enter here for a chance to win a weekend in Vienna!!
My entry for the <a href="http://www.vienna.net/xmas">Vienna Christmas Recipes</a> competition.