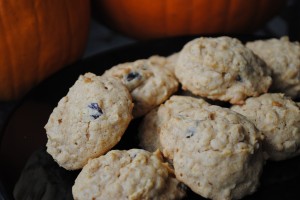 These are the ultimate fall cookie! Lightly spiced and soft, my kids gobbled them up happily 🙂 Not only were they easy to make, but the recipe (which I found on Allrecipes.com) made a ton of cookies. They froze well and were a delicious addition to school lunches this past week.
Pumpkin & Oatmeal Cookies
2 cups all-purpose flour
1 cup quick-cooking oat
1 tsp baking soda
1 1/2 tsp ground cinnamon
1 tsp ground nutmeg
1/2 tsp salt
1 cup butter, softened
1 cup brown sugar
1 cup white sugar
2 large eggs
1 tsp vanilla extract
1 cup pumpkin puree (canned)
2 cups raisins
Preheat oven to 350 °F Combine the flour, oats, baking soda, cinnamon and salt; set aside. In a large bowl, cream together the butter, brown sugar and white sugar until smooth. Beat in the egg and vanilla then stir in the pumpkin puree. Gradually stir in the dry ingredients until well blended. Mix in raisins. Drop by rounded spoonfuls onto un-greased cookie sheets. Bake for 10 to 12 minutes in the preheated oven. Allow cookies to cool on baking sheet for 5 minutes before removing to a wire rack to cool completely.