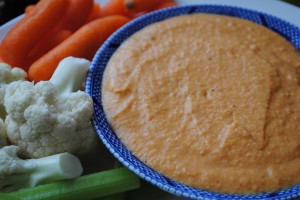 Yummus to hummus! I'm not sure if it's the garlic, the smooth texture, the dipping factor or what exactly I love the best about it, but it is one of my favourite snacks and for good reason – it's healthy and so simple to make in just a few minutes.
Now, don't get all worried about roasting the red peppers. Really folks, it's not hard. Also, you need to please *please* promise me that you won't go out and buy red peppers in a jar – they are not very good, they're full of additives and sodium. The fresh ones will make all the difference in taste – I promise! They take about 45 minutes from start to finish, so if you're in a hurry, do the peppers ahead of time so you can whip up the hummus later on.
Superbowl Sunday is this weekend! Why not make this yummy dip to share with your friends? 🙂
Roasted Red Pepper Hummus
3 TBSP cream cheese
1 TBSP fresh lemon juice
salt & pepper to taste
1/2 tsp ground cumin
2 cloves of garlic, minced
1 can chick peas, drained
2 red peppers, roasted
(To roast your peppers, preheat oven to 425 degrees F. Place washed, whole peppers in an oven-safe dish, and roast for 15 minutes. Turn over, and roast for an additional 15 minutes, or until peppers are starting to brown. Remove them from the oven, and place the peppers in a paper bag for about 10 minutes. Once cool enough to handle, remove outer skins, stems and inner core and seeds. The fleshy parts are what you need to add to your hummus.)
Put all of the ingredients into a food processor, and blend until smooth. Serve this colourful dip with veggies, pita wedges, breadsticks or crostini.