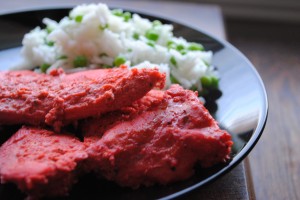 Hands down – the EASIEST Indian dish I've ever made!!! Here we go with the delicious recipe!
Tandoori Chicken
4 chicken breasts, slit length-wise
juice of 1 lemon
2 cloves garlic, minced
2 TBSP Tandoori Masala Spices (available at bulk store or Indian grocer)
1 cup sour cream or yogurt
Blend the lemon juice, spices and sour cream. Marinate the chicken in the spice and yogurt blend overnight. Spray a cookie sheet with cooking spray and place chicken pieces on in a single layer. Preheat oven to 425 degrees F. Bake chicken for 30 – 40 minutes turning once during cooking time. Serve with Basmati rice and peas.