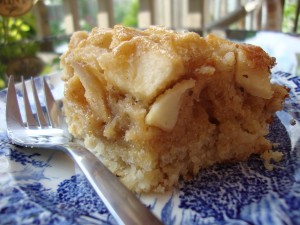 Sometimes, it takes *really* looking something over before you realize the error of your ways. I've been working away on my second book, and last night I completed the recipe list to be included. (HOORAY!) However, I noticed that most of the recipes that I really want in the book are main courses, and we just can't have that. So in the next while, I am going to focus on desserts (this shouldn't be too hard to swallow) 🙂
I was flipping though a little church group cookbook this morning, on the look-out for delicious dessert ideas and I came across this apple cake recipe. It is so tasty. The perfect accompaniment to the perfect cup of coffee.
Apple Cake
1 cup margarine
1 1/2 cups flour
1 cup oatmeal
4 TBSP white sugar
4 eggs
2 cups brown sugar
2 tsp vanilla
4 cups apple, peeled and chopped
1/2 cup chopped nuts (I left them out so my kids would eat it)
1 cup flour
2 tsp baking powder
1/2 tsp salt
1/2 tsp nutmeg
1/2 tsp cinnamon (I added this too – what is apple cake without cinnamon?)
Mix together margarine the first measure (1 1/2 cups) of flour, the oatmeal and the sugar and press into the bottom of a greased 9×13 pan. Beat the eggs until thick, stir in 2 cups of brown sugar, the vanilla, apples and nuts. Mix flour, baking powder, salt and spices. Add to egg mixture and mix. Spread over the bottom later in the pan, and bake at 350 degrees F for 30-40 minutes, until apples are golden and toothpick inserted into centre comes out clean.