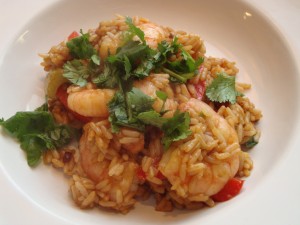 A terrific dinner was had in the company of great friends last evening – a beautiful meal catered by Lemongrass Thai Catering of Guelph – simply spectacular food! Tom Yum Soup, Pad Thai, chicken, curry potatoes…Yum!
I was so impressed, that I made a trip to the Asian grocery store today to get some special treats. Bubble tea mix, fancy noodles and rice paper, sauces, even some baby corn which our daughter has recently decided is her favorite food!
One of the sauces I picked up was a special spicy Cantonese Sauce for rice. I cooked up a delicious fried rice with stir-fried vegetables and huge shrimps this evening, and we enjoyed our meal while watching the Olympic hockey game in which Canada won gold! Great food, great game – life's good here in Canada!
Cantonese Rice & Shrimp
1 cup white rice, cooked in 2 cups water
1 TBSP oil
2 cloves garlic, minced
1 tsp ginger root, grated
1 bunch spring onions, sliced
1 rib celery
1 red pepper, sliced into strips
10-12 large shrimp
2 TBSP Cantonese Sauce for rice
1 TBSP Pad Thai Sauce
2 tsp soya sauce
Fresh cilantro to garnish
*I wished I had cashews to add, as these would have been a delicious addition to the dish – next time!
Saute garlic, ginger, onions, celery and red pepper. Add shrimp, and cook until they turn pink. Add rice and sauces, and heat through. Garnish with cilantro and cashews.