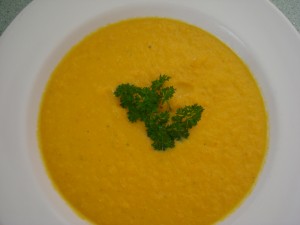 It's time for soup again. Chilly days, and falling leaves always make we want soup, so I made some for lunch today, photographed it, and voila! The beautiful orange colour of this tasty soup is perfect for fall!
Cat's Cream of Carrot Soup
4 Large Carrots Chopped
1 Large Onion Chopped
4 Cloves Garlic Minced
1 TBSP Margarine or Butter
Fresh Ground Pepper
3 Cups Water
3 Packets Chicken Broth (Oxo)
1 Cup Milk
Saute the Carrots, Onion and Garlic in the Butter. Season with a little fresh ground pepper. Once carrots are slightly softened, transfer into large stock pot, add water, soup base (dry broth base) and simmer for about 1 hour until the carrots are very soft. Add milk and heat. Puree with hand blender. To serve, add a dash of sour cream on top and parsley or Cilantro.