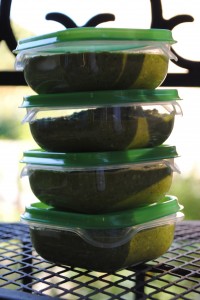 This is the perfect season to make your own fresh basil pesto. Pesto is a versitile and delicious sauce that can be added to pastas, soups or served with fresh bread or crackers.
Today at the farmers market, I bought a HUGE bunch of basil, and made four small containers of pesto when I got home. I popped them right into the freezer, in individual containers ready for weeknight meals!
Here is an easy pesto recipe, that you will love. This version has no nuts in it (although you can add pine nuts, cashews or other soft nuts if you like)
Fresh Basil Pesto
3 cups fresh basil leaves (washed well, and packed)
4 cloves garlic, minced
3/4 cup olive oil
1 tsp salt
1/2 cup fresh grated parmeggiano reggiano
Combine all in your food processor, and blend well.