Another wonderful submission to my recent recipe contest, that looked good enough to deserve an honorable mention. This recipe fits the bill on easy, and sounds delicious! I will be making this myself this week, once the flu bug that has ravaged our household moves out – ugh, what a weekend!
Anyhow, thanks to Katie for this delightful recipe complete with photo!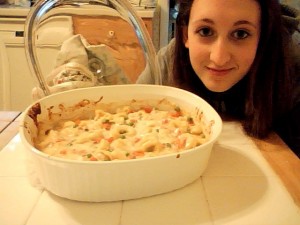 Tortellini Casserole
1 Package frozen tortellinis (14 oz)
1 cup of peas
1 can cream of mushroom soup (10 ¾ oz.)
½ grated parmesan
Splash of milk
½ shredded mozzarella
3 medium tomatoes, diced
2/3 cup prosciutto, cubed
Preheat oven to 375 degrees.   Cook tortellini according to package.   Drain when done, return to pot.   Add peas, cream of mushroom soup, parmesan cheese, tomatoes, milk, and prosciutto; mix well.   Put in casserole dish, sprinkle mozzarella on top.   Bake until bubbling, or 30 minutes.
Variations: Add some cubed chicken, use bacon instead of prosciutto, or asparagus instead of peas.