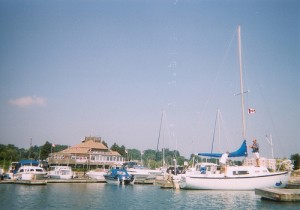 Years ago as a teenager, I worked for a summer in a large restaurant at the marina in my home town. What began as nothing more than a summer job to earn some extra money (I started off as a dishwasher) ended up being one of the happiest summers of my life. Within about a week of being hired, one of the prep cooks was dismissed, and I was asked to take his place in the prep kitchen downstairs. I can honestly say that it was one of the best summers I ever had. We started our shift at 7 a.m. and by early afternoon our team was done and we were free to enjoy the beautiful summer days. This was especially great because working at the marina enabled a lot of time spent down by the water. That, and I LOVED working in a restaurant preparing fresh foods every day with the small kitchen team I worked on.
I had a bit of baking experience by the time I was a teenager, and so when I proved my culinary worth by making some delicious cheese biscuits my first shift in the prep kitchen, I was elected the honorary "biscuit-girl" by the owner, who up until that time had been the only one in the place who was "allowed" to do any of the baking – I think she must have liked me 🙂
This recipe for biscuits is sort of a "cheater recipe" It calls for biscuit mix, even though the ones I used to bake were 100% from scratch. These are just like the beautiful cheese biscuits served at Red Lobster, and warm from the oven they are the perfect accompaniment to a light salad or fresh soup.
Cheese & Garlic Biscuits
2 1/2 cups "Bisquick" baking mix
1 cup cheddar cheese, finely grated
3/4 cup whole milk
2 tablespoons butter, melted
1/8 teaspoon garlic powder
1/4 cup butter, melted
1/2 teaspoon garlic powder
1/2 teaspoon dried parsley flakes
dash of salt
Preheat your oven to 400 degrees. Combine Bisquick with cheese, milk, 2 tablespoons of melted butter, and 1/8 teaspoon garlic powder. Mix until well-combined. Drop approximately 1/4-cup spoonfuls of the dough onto an un-greased cookie sheet. Combine 1/4 cup butter with 1/2 teaspoon garlic powder, parsley flakes and salt. Brush this mixture over the tops of each unbaked biscuit. Bake for 14 to 16 minutes or until the tops of the biscuits begin to turn light brown. Serve warm.