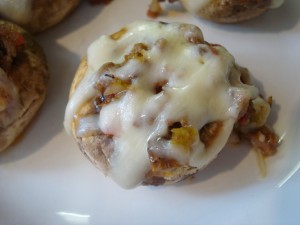 There is a recipe in "The Cat Can Cook Book" for Stuffed Mushroom Caps, that features crab, but I wanted to post a similar recipe with a different spin. These mushroom caps are just as simple, yet different enough to become a whole new dish!
Stuffed Mushroom Caps
12 Large Button Mushrooms, stems removed, and finely chopped
1 small onion, finely diced
1 rib celery, finely diced
2 cloves garlic, minced
1/4 pound ground beef, browned
1/2 cup fresh salsa
1/2 cup mozzarella cheese, shredded
Saute the beef, mushroom stems, onion, celery and garlic until cooked. Add salsa and cook until most of the moisture from salsa is evaporated. Place mushroom caps, in a shallow baking tray, and scoop mixture into caps, overfilling each, and mounding on top. Put about a TBSP of water into the bottom of the baking dish. Preheat oven to 375 degrees F and place stuffed mushroom caps (loosely covered with foil) into oven for about 25 minutes. Remove, and uncover. Top mushrooms with shredded mozzarella and return to oven for 5 minutes until cheese is melted and bubbly.