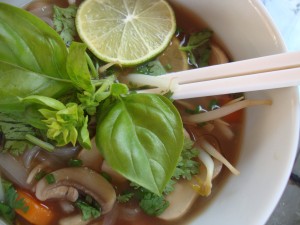 The delicious and fragrant flavours in this vegetarian soup were created from some of my favorite backyard plants – every year I enjoy my beautiful gardens where I grow parsley, rosemary, thyme, oregano, cilantro, chives, sage, lovage, garlic…etc. but this year we had a surprise plant sprout up – a pumpkin! While it has taken over much of one of my herb gardens (and so far has three baby pumpkins growing on it's lengthy stalks,) there is luckily still enough room that the other plants may continue thriving.
This Asian Soup is very flavourful and delicious – kids like the noodles and veggies, and the grown-ups like the broth as well.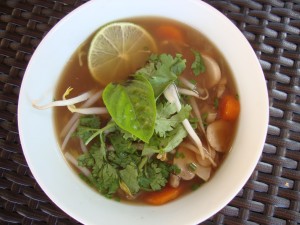 Pho Soup
6 cups of chicken broth (or use vegetable broth if vegetarian)
10 coin-size slices of fresh ginger
1 cup mushrooms, sliced
1 onion, sliced
1 carrot, sliced
1 TBSP soya sauce
1 tsp Chinese 5 spice powder
3 cloves garlic, minced
8 ounces rice noodles
2 TBSP chives, chopped
1/2 cup cilantro, chopped
1 cup bean sprouts
4 sprigs of basil
1 lime, sliced
In a large stock pot, combine broth, ginger, mushrooms, onion, carrot, soya sauce, 5 spice and garlic. Allow the soup to cook on medium-high heat fro about 30 minutes. Add noodles, give it a quick stir, and remove from heat. Once noodles are cooked, serve into 4 large bowls, and garnish with chives, cilantro, bean sprouts, basil and lime. Serve with both a spoon and chopsticks.