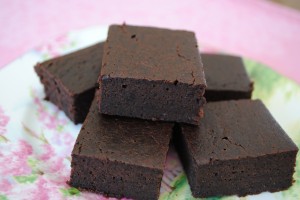 Okay – no joke these are seriously AWESOME brownies!! Who knew you could make delicious baked goods (chocolate no less) from beans and that they would actually taste good? They are rich, moist and decadent! You know you're curious – so what are you waiting for, try this delightful recipe from Allrecipes.com!
Black Bean Brownies Recipe
1 (15.5 ounce) can black beans, rinsed and drained
3 eggs
3 tablespoons vegetable oil
1/4 cup cocoa powder
1 pinch salt
1 teaspoon vanilla extract
3/4 cup white sugar
1/2 cup milk chocolate chips (optional)
Preheat oven to 350 degrees F . Lightly grease an 8×8 square baking pan. Combine the black beans, eggs, oil, cocoa powder, salt, vanilla extract, and sugar in blender or use a hand blender to combine and blend thoroughly. Pour the mixture into the prepared baking dish. Sprinkle the chocolate chips over the top of the mixture (I omitted this step) Bake in the preheated oven until the top is dry and the edges start to pull away from the sides of the pan, about 30 minutes.