Over the weekend I had the pleasure of attending a delicious event in Toronto hosted by Canadian Beef. It was all about how to prepare the perfect roast. I thoroughly enjoyed myself while mingling, eating and learning.
Experts from Canadian Beef were on hand at the event to teach us and answer all of our questions about preparing the perfect roast. We were served many different beef dishes, and I was anxious to come home and replicate the delicious roast that were were served. I attempted it with trepidation, despite being told how easy it was. Well, as it turns out I was pleasantly surprised! I made a delicious beef dinner last night following the easy steps and knowledge given to us. I've always made a nice roast beef, but Sunday's  dinner was phenomenal!
The basic method of oven roasting is as follows: Season, Oven-sear, reduce heat, and cover. That is it in a nutshell! It can't really get much simpler than that. In the fast-paced culture in which we live, many families require easy and quick meals. Preparing beef could not be easier – and with the left-overs, there is a plethora of great meal ideas to be made.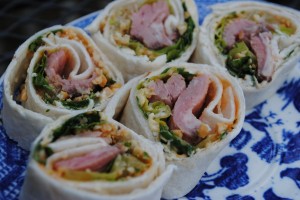 Since the event, I've made the roast beef as well as Beef n' Cheese Pinwheels. Both were superb!
The key knowledge that I left the workshop with, was label reading. It is imperative when selecting a roast, to read what you are buying. If you are buying a pot roast, it is one you will want to cook slowly with moisture, such as the crock pot method. If on the other hand, you select an oven roast, it will be cooked in the oven. Simple? Yes!
Over the coming weeks I look forward to sharing more beef recipes with you! Until then, you may find  more information on the Canadian Beef web-site  beefinfo.org  fo delicious recipes, tips on selecting and preparing your meat.
Also – if you want to read more of what I am up to on Cat Can Cook, we have a vibrant and active community on Facebook! C'mon over and check us out! I post photos almost daily! 🙂