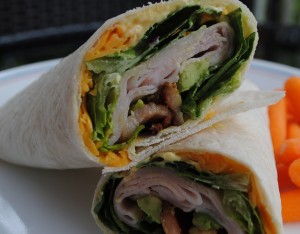 Need a super-easy and yummy lunch on the go? This is yet another versatile recipe which can be changed up and added to. Customize it to your own taste. The possibilities are endless!
Today, I made them with turkey breast and bacon in true "club house sandwich style" and added in a mustard/mayo combination as the sauce which made them perfect! I also had an avocado which added a nice creamy texture. Delish!
Clubhouse Turkey Bacon Wraps
4 large tortilla wraps (or one per person)
12 slices deli turkey meat
8 slices bacon, fully cooked
1 cup lettuce, torn
1 cup cheddar cheese, grated
1 avocado, sliced
1 vidalia onion, sliced
1 tomato, sliced (I forgot to add this – but it would have been perfect)
2 TBSP light mayonnaise + 1 TBSP mustard (combined)
On the tortilla wraps, spread the mayo/mustard combo and then top with remaining ingredients. Wrap tightly, and secure with a tooth pick.