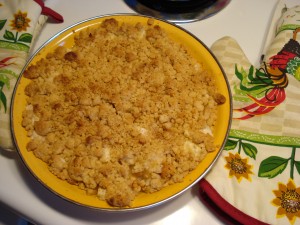 One of my all-time favorite recipes to make at this time of the year, is Apple Crisp. With apples in abundance, and the simplicity of this recipe, this seems like the perfect time to share it!
Apple Crisp
2 Cups Chopped Apples
2/3 Cup Brown Sugar
1/2 Cup Butter or Margarine
1 1/3 Cups White Flour
Dash of Cinnamon
Spread the Chopped Apples in the bottom of a small cake pan or pie plate. Combine Brown Sugar, Butter (or Margarine) and Flour (I use my hands to work it in really well!) Spread the mixture over the apples, sprinkle with a dash of cinnamon and Bake in a 375 degrees oven for about 1/2 an hour or until top is golden. Serve with Vanilla Ice Cream!