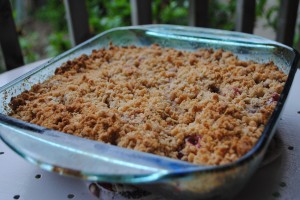 It's rhubarb time here in Ontario! I was given this HUGE bag of rhubarb by my friend Kate on Friday, and I needed to find something yummy to make with it. Try this deliciously simple recipe made with ingredients you'll already have on-hand! Perfect with a cup of coffee on a cool spring evening.
This recipe is adapted from the 1983 Toronto Star Cookbook by Jim White. The suggestions is to use regular rolled oats, not the quick-cooking kind (I used quick as it was what I had in my pantry, and it worked out just fine!)
Simple Rhubarb Crisp
1-1/2 lb (700 g) rhubarb, trimmed, cut in 1/2-inch dice (about 6 cups)
3/4 cup granulated sugar
1/4 cup all-purpose flour
1/2 tsp ground cinnamon
Topping:
1 cup all-purpose flour
3/4 cup packed brown sugar
3/4 cup rolled oats
1/2 cup butter, melted
In large bowl, toss rhubarb, sugar, flour and cinnamon. Transfer to lightly greased 8-inch square baking pan. For the topping, toss together flour, sugar and oats and add in the melted butter. Mix well with fork. Sprinkle over rhubarb mixture.
Bake in preheated 375F oven until golden brown, about 30 minutes.
Makes 8 servings.