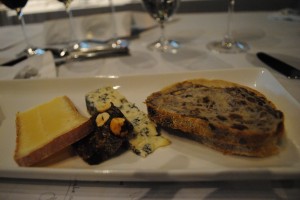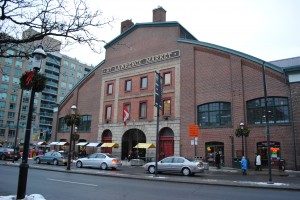 Last evening, I was treated to a delightful dinner hosted by the Dairy Farmers of Canada. I was honoured to be invited to attend alongside some of Canada's leading food bloggers. It was an awesome event for the senses, in the historic St. Lawrence Market in beautiful Downtown Toronto where we enjoyed the culinary creations of Emily Richards. The venue was gorgeous, the food – sensational and the company was divine. I met some wonderful people who much like myself,  are also passionate about food. I must say that the DFC folks sure know how to entertain!
Cheese, alongside my family truly is one of my passions, and although I don't necessarily profess to know everything about it, I do know what I like! I make trips into Toronto just to shop for cheese, so I guess you could say that indeed, I am a cheese enthusiast! Last night, during the four course meal, we were treated to a cheese course featuring three different Canadian cheeses which were thoroughly palette pleasing. My favourite one (and for the moment my favourite cheese all together,) was the beautiful "Tiger Blue" cheese from British Columbia. It was rich and buttery, and deliciously creamy in texture. Normally I am not a huge blue cheese fan, but this cheese is seriously spectacular and ALL Canadian made!  It would be brilliant paired with fresh fruit. I hope I can find it here in Ontario…if and when I do I will let you know so you may try it as well…really, you MUST try it! 🙂
The round table component of the evening gave bloggers the chance to discuss food trends, marketing strategies and important related issues. It was so refreshing to hear all of the points of view in a friendly environment among other foodie bloggers. Many ideas were shared and I took a lot of insights home with me (in addition to a great little bag of the cheese) We discussed food trends, food photography and all sorts of other things. It was a very refreshing and enjoyable evening and I met some wonderful people who I look forward to working with.
Canadian cheese has really made it's mark on the map! If you've not tried some of what our beautiful country has to offer, check it out! A great place to start is www.dairygoodness.ca
What's YOUR favourite Canadian Cheese?