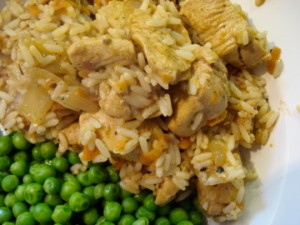 I am pretty certain that this is not an authentic Nasi recipe, seeing as I am a Canadian and not Indonesian (where the dish originates from) but it sure is a tasty version of the dish!   Of course, it is also 100% easy, or it wouldn't be here!
Nasi Goreng
2 TBSP Cooking Oil
5 Cloves Garlic minced
1 Large Onion, chopped
2 Large Carrots, Shredded
2 Chicken Breasts, cut into large chunks
1 Packet Dry Bouillon Mix (I use Chicken Oxo)
1/2 Cup Water
1 TBSP Curry Powder
1-2 Cups Cooked White Rice
In a non-stick skillet, over medium-high heat, saute the garlic, onions, shredded carrots and chicken breast in oil to lightly brown.   Add water.   Once cooked/steamed through, add 1 TBSP Curry Powder and blend well.   Add cooked rice, and mix well to coat evenly.   Serve piping hot with mixed greens or veggies.
Tips: You might like to add in fried egg, tofu, prawns, green onions, soya sauce..etc.   Play around with it! It can only get better the more stuff you add in!