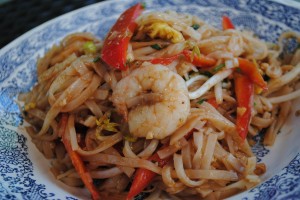 I LOVE Pad Thai! It is hands-down one of my top three favourite dishes, because it's fresh, easy and my kids will eat it.
I love to experiment with my recipes and play with my food (it's okay, my Mom knows I play with my food and she's okay with that!) 😉 Sometimes I like to use all of the ingredients to make my own sauce, but tonight I was in a hurry, so I used my favourite store bought Pad Thai Sauce. It's (ready to giggle) called "Cock Brand" I buy it at the Asian grocery, and it has a yellow and red label on the bottle. It really is a good quality and yummy sauce!
I've also started to eat vegetarian again (after a 6 year break) I feel healthy, happy and am enjoying my new diet immensely. I am still eating fish and shell fish, so this recipe contains shrimp, but they can easily be omitted, if you like.
Pad Thai
1 package rice noodles, cooked (follow package directions)
2 TBSP oil
1 red bell pepper, cut in thin slices
1 bunch spring onions, chopped
2 eggs, scrambled
1 package extra firm tofu, cut into thin slices
1 cup cooked shrimp
1/3 cup crushed peanuts
1/3 cup fresh cilantro, chopped
1 cup pad Thai sauce (I also love the Presiden't Choice Reduced Sodium Sauce)
1/2 cup fresh bean sprouts
First, sauté your red pepper and onions lightly, and set aside. Next in the same pan, scramble eggs, and set those aside. Fry tofu slices in remaining oil until golden brown, and set aside. Cook shrimps, and set aside (a lot of setting aside here folks but I promise it will all come together at the end) Place your noodles in a large sauce pan, and over low heat, toss with the Pad Thai sauce. Add in all of the "set aside" ingredients, plus the peanuts, cilantro and bean sprouts, and warm through. Toss all together and serve hot.