It's been one of those crazy weeks. Quite an emotional roller-coaster in fact! Early in the week I got some amazing news about my other business Elanne & Ivy. Then I got some not-so-amazing news, followed by more happy news. The icing on the proverbial cake came when I caught a cold. That part was definitely not a highlight.
Being a food-lover, I often seek comfort in a tasty meal. I was very happy when the courier arrived unnanounced on Thursday with a delightful box of goodies! President's Choice often sends me new products to try. I was very happy to see so many healthy surprises in this particular selection. A delicious granola cereal, penguin snacks for my kids (which my son LOVED) many other interesting packages of this and that. But the highlight for me, was the new PC Blue Menu Pad Thai Cooking Sauce! I adore Pad Thai, and although I often do make my own home-made sauce, I had tried their regular Pad Thai sauce before, and was quite happy with it. The new Blue Menu one had me a little skeptical at first. I was worried it wouldn't taste right being that it was both fat and soduim reduced.
I am extremely happy to announce that the Blue Menu Pad Thai sauce was absolutely delicious! I even prefer it to the original one! Yum! Really, REALLY great sauce. Period.
I made my Pad Thai in the usual way, noodles soaked in boiled water, stir fried shrimp, tofu, egg..etc.  Here is the recipe:
Pad Thai
8-10 oz Dried Rice Stick Noodles
4 TBSP. Canola Oil
12 Large Shrimp (pre-cooked is fine)
1 Block Firm Tofu, Cubed
3 Eggs – Lightly Beaten
1 400 ml jar PC Blue Menu Pad Thai Cooking Sauce
2 Green Onions, finely sliced
2 Cups Bean Spouts (optional)
3 TBSP. Crushed Peanuts
3 TBSP Fresh Cilantro Leaves
Lime Wedges for Garnish
Pour oil into a wok/skillet, and cook the shrimp and tofu over medium-high heat. Push shrimp and tofu to one side and scramble the eggs on the other side of the skillet. Remove shrimp, tofu and eggs and set aside. Add green onions and fry until onions are limp. Add PC Sauce, shrimp, tofu and eggs back in to skillet, and warm thoroughly. Soak rice noodles for about 10 minutes in boiling water. Remove and drain noodles, and add to skillet. Add in bean sprouts and toss thoroughly, being careful not to break the noodles. Top with peanuts, cilantro, and garnish with a lime wedge.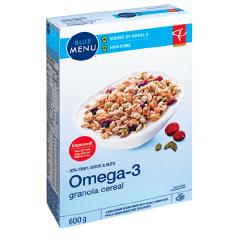 The other product I want to rave about, was the Blue Menu Omega-3 Granola Cereal. I LOVE granola and again, while it is something I like to make homemade, it is also not something I necessarily have on-hand. This granola is delicious with milk, or as a yogurt topping! I give it two thumbs WAY up!
I really love how some of the products from PC allow me to enjoy cooking and home-made meals, but make them so much easier. So many of their amazing products are like that! I really really enjoy using my favourites, and trying new ones!
Looking forward to trying more of the great products from PC this week!