What a party! I am home from Toronto, where this evening I had the privilege of attending the President's Choice Holiday Insider's Event. I can honestly say that the PC chefs and product developers LOVE what they do and it shows both in their attitude towards the quality products they help create as well as in the products themselves. As usual, I am extremely impressed with PC! What a sensational party, and a feast we had. I was delighted to sample many of the new products geared to make holiday entertaining simpler this season.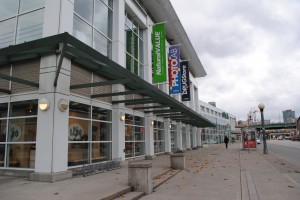 I arrived a tad early in Toronto and so I wandered around a little taking photos outside of the *huge* Lowblaws store downtown. When I went in to register for the event, what struck me was how incredibly friendly everyone was…and that they knew who *I* was! It was lovely to be recognized and treated so nicely 🙂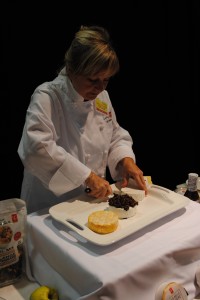 The event kicked off with drinks and a sampling of PC Angus Sliders (which are an absolute favorite of our daughter's, and of mine for that matter as well) As we chatted and mingled, I was pleased to meet some of the chefs and developers who actually create PC products. They all shared with us some of the processes and decisions that go into making these sensational foods, including world-travel, and dining in popular restaurants for inspiration. We were treated to a beautiful cheese plate, hors d'oeuvres, seafood chowder, beef bourguignon, desserts and gourmet coffee…it was all very tasty and filling!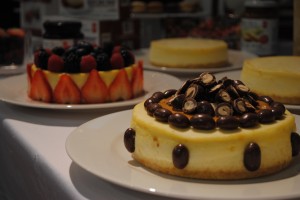 The highlight of the evening, was for me the dessert. Can you guess what it was? Cheesecake! Well, I suppose they knew I was coming afterall! I was thrilled with the Dulce de Leche Cheesecake. It was absolutely creamy, rich and decadent and every bit as good as I can make myself from scratch. PC has introduced New "Dine-In Tonight" dishes, and in addition to the entrees, they also have the dulce de leche cheesecake served in individual glass dishes. It was heaven in a ramekin! I've been raving about it to my hubby since I got home.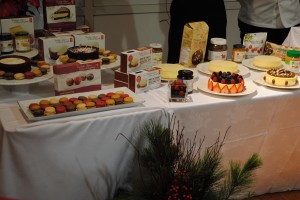 Entertaining smarter, not harder is the key to this year's delicious line-up from PC. I am already planning which of the gorgeous appetizers, mains and desserts I will be serving to my own friends and family over the holiday season. One thing is for certain, with President's Choice it takes the guess work and crazy prep work out of it, leaving you more time to host a fantabulous party by spending less time in the kitchen fiddling around! Don't get me wrong, I LOVE to cook, but when you're hosting a party, isn't spending time with your guests what it's really all about? See, you can have your cheesecake and eat it too – PC makes it EASY! 😉